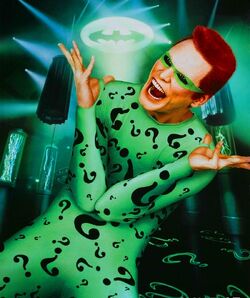 The Riddler isn't my favorite villain but he is definitely an interesting one. When I thought of a title for this post and "questions" came to mind it automatically formed into his mantra from the movie. Just a little humor in a somewhat heavy post.
Do you ever find yourself questioning yourself or even God? That is where I am at right now. I have been there many times over the past 46 years of my life, maybe not so much in the first years but certainly once I was old enough to understand the harder things in life. I learned some of those at the very early age of four years old.
Life isn't fair and it doesn't always make sense. Why is that? Because it is full of human beings who don't always make the right choices. And who's to say the right choice for them is the right one for you? But so many lives and decisions affect others.
Over the summer and in the early days of fall my questions centered around the "why did the doors close for us to serve overseas?" We have yet to understand that one. We were willing. We did all the training. But the doors didn't stay open. I have dealt with that for the most part. At times it shows its ugly head and I try to shove it away as quickly as it appeared. Bitterness and doubt have no place in my life. God is in control and He knows what is best for me and my family. He also knows the perfect time for all things.
What are my questions now, you are wondering? I am wondering if I was wrong to start up my kidcare business again. Or if I "heard" God wrong or thought I heard Him. Why am I asking that question? Because I have worked so hard to get things together, purchased the needed supplies to make my centers again, rearranged the house to accommodate the school and it looks awesome. I have my license I have been putting the word out to all of my friends. I have signed up on multiple boards to advertise my business. I have
my website
where I made my own banner (and it looks great) and a
fb page
for my business. I even had the signs on my car that my daughter was driving until it died. I have great business cards that I have handed out. BUT I have gotten ZERO phone calls from prospective parents. Not a one. I have been advertising the start up for months. I have had my website since October.
Did I do the wrong thing? I honestly don't know at this point. I know I am excited to have this adventure begin. I need it to happen to help pay our bills. I want my husband to be able to take a job with fewer hours closer to home even if it means less pay. I didn't want to take a job outside the home because I
homeschool
my children and LOVE it. I don't want to give that up. But there are bills to be paid and this is something that I love doing and can make the money I need to pay those bills and get things paid off if I am careful about my spending and where it goes. I can't do any of those things until the phone rings and parents start bringing their children for me to teach.
I am also wondering why after years of putting in applications at other places my husband is still working at a job that is a long drive and long hours away from his family. We found out that the second shift supervisor is quitting and that will leave him to help cover that shift which means more long hours. I am already struggling with the lack of time he is able to devote to time with God and our family because of the mental draining that goes on all day at work. I really don't understand why God isn't opening a door for him closer to home with less stress.
I am wondering how we are going to manage with only one car between the three of us, our oldest lives here and my cheap little car died. With longer hours for my husband it will make sharing a car even more stressful. I wish that old car would have held out a few more months. I am thankful it lasted six months. That was six months she was able to get to work. But what now? It just makes things even more of a strain with all the other things going on.
What should I do now? As I type this a still small voice whispers:
"Be still and know that I AM God. Be patient and wait upon the ME. MY timing is perfect. I know the plans I have for you, good plans."
I will keep working on things in my life that need work and keep praying that God will send the kids HE wants me to teach. I will keep praying He provides a different job for my husband. I will keep praying He provides a car for my daughter so she can get to work and church. And I trust HIM to provide for our needs, as I know HE will, without a doubt.
It's OK when those times in your life you start to question God. Do you know why? Because He is big enough to handle it. He understands how you feel. He wants you to come to Him even with questions and doubts. He loves you so much. He just wants you to come to Him. He can give you peace and assurance. He will answer you. Maybe not the way you thought He would. But He will answer. And He promised to supply all of our NEEDS. Again, maybe not how we thought it should happen. He knows best and sees the outcome of all things.
Thanks for letting me share this. Writing always helps put things into perspective and I was able to hear God speaking to me as I was quiet and listening for that Word from Him. I know the answer lies in spending more time with Him in the Word and in prayer. Only He can give me the peace I need to live each day as it comes and make the best of each one.
Until next time...blessings to you.